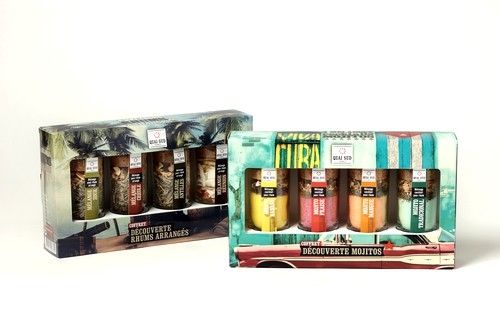 A gift to offer ? Think of the Quai Sud cocktail boxes!
You are invited to a friend's house and you do not want to arrive empty-handed. What are you going to bring? Flowers 💐? Chocolates 🍫? A bottle of wine 🍷? But no, a Quai Sud gift box is much more original 😃. Our gift boxes will be admired by all your friends. They contain different
mixes for arranged rums or for cocktails
, presented in cocktail glasses, carafes or sachets, but they all have one thing in common: their conviviality! With a Quai Sud box, you are sure to have a good time, to arouse curiosity and a few bursts of laughter 🤣. Decorated in an original and colorful way, the least we can say is that our boxes have class 😎. If you want to make people happy with a stylish gift, a Quai Sud gift box will always be a good idea.
A wide variety of gift boxes
The diversity of Quai Sud boxes allows you to offer personalized gifts to your loved ones. There is bound to be a gift box that will suit you. There is our range of
Addict boxes
, an assortment of mixes to prepare 3 variations of your favorite drink, for example
Mojito Addict box
🍸. We also have discovery boxes of mixes for cocktails or arranged rums,
cabin boxes
composed of mix and match glasses,
Evening cocktail boxes
with a carafe, glasses and icing sugar, such as the
Punch evening cocktail box
for a memorable evening with friends 🥂. Finally, by our other boxes, the most fun contain a delicious mix in
amazing glasses
in the shape of a pineapple, a tiki… or a skull 💀! Gift boxes made by hand in our workshop in Signes. There are a few who are going to be spoiled! 🎁