COLLECTED DATA
Each information form limits the collection of personal data to what is strictly necessary (data minimization): see Article 23: Data Processing and Liberties of our General Conditions of Sale.
The personal data collected at quaisud.com is processed according to secure protocols and enables QUAI SUD to manage orders or requests received online.
For any information or to exercise your rights regarding the processing of personal data managed by QUAI SUD, you can contact us by filling in our contact form.
ABOUT COOKIES
The data collected on the site of the Merchant in order to treat the orders have a volatile Character, the company Quai Sud must be able to know and to memorize some of the parameters which are communicated to him by the computer of the "consumer": it is necessary for him to know the identity of the "consumer" as well as the products which it is buying. Cookies are programs used for this sole purpose: to memorize, during the visit, the identity (known thanks to the username and password) and the contents of the "basket" as it is filled. Once the shopping is finished, this information is automatically deleted, the "cookies" being those which are called "volatile cookies".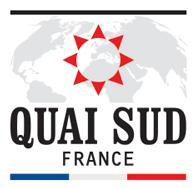 ZE de Signes
Ave de Madrid
83870 Signes cedex 9
Monday to Friday
9am - 5pm