It is the drink of winter, the one whose perfume floats on all the Christmas markets with its good smell of citrus fruits and spices: mulled wine! To plunge us into the atmosphere of the end of the year celebrations and warm us up after a walk in the snow, there is nothing like this beverage that smells like Christmas tradition. But do you know where mulled wine comes from and how it is prepared? Quai Sud tells you everything!
The origin of mulled wine
Before comforting us in front of a good fire, the mulled wine had a very long journey! We find his trace at Ier century among the Romans; they boiled a little wine with honey, spices (pepper, bay leaf, saffron), mastic pistachio tree resin and dates with their roasted kernels. They then added this powerful mixture to good wine before plunging hot coals into it to guarantee its good preservation. Suffice to say that it was better to have a strong stomach! 😵
Le spiced wine crosses time in this form and gradually spreads throughout Western Europe from the XNUMXthth century, under the name ofhippocras. They add sugar and spices brought back from the Orient, such as cloves and cinnamon, and later cardamom, ginger and citrus fruits brought back from distant explorations.
It was only from the end of the XNUMXthth century that the Scandinavian tradition of mulled wine consumed at Christmas spread to Europe. On the Christmas markets in Germany, each vendor then offers a mulled wine of its composition and distributes it in a bottle adorned with a beautiful label to attract customers. Even today, the scent of mulled wine floats on each Christmas market, and this comforting flavor accompanies us all winter long.
Mulled wine in Europe
Mulled wine is a deeply rooted tradition in Europe. If in the United States we prefer eggnog, a sweet and spicy drink made from milk, egg and cream that better suits the American palate, Europeans have chosen to adapt the recipe for mulled wine to their culture. .
In Sweden, it is King Gustav Ier, crazy about mulled wine, who spread the drink in his country. The Scandinavians call it mulled (wine heated in Swedish) and make it with white wine, a mixture rich in ginger and cardamom, and sometimes with two fingers of vodka or aquavit. In Austria, it is also prepared with white wine, while in Poland the Grzane Wino is based on beer 🍺 and honey to break the acidity. In Germany, the Mulled wine is rather red, sometimes white and embellished with spiced rum.
In France, we also have our variants. The most famous comes from Alsace, made with a local white wine (Riesling, Pinot blanc). In Brittany, it is prepared with cider. And with our cousins ​​in Quebec, who ardently cultivate French culture abroad, we prepare the caribou, based on red wine, strong alcohol (whisky, gin, brandy…) and with maple syrup instead of sugar, of course! 🍁
Mulled wine recipe by Quai Sud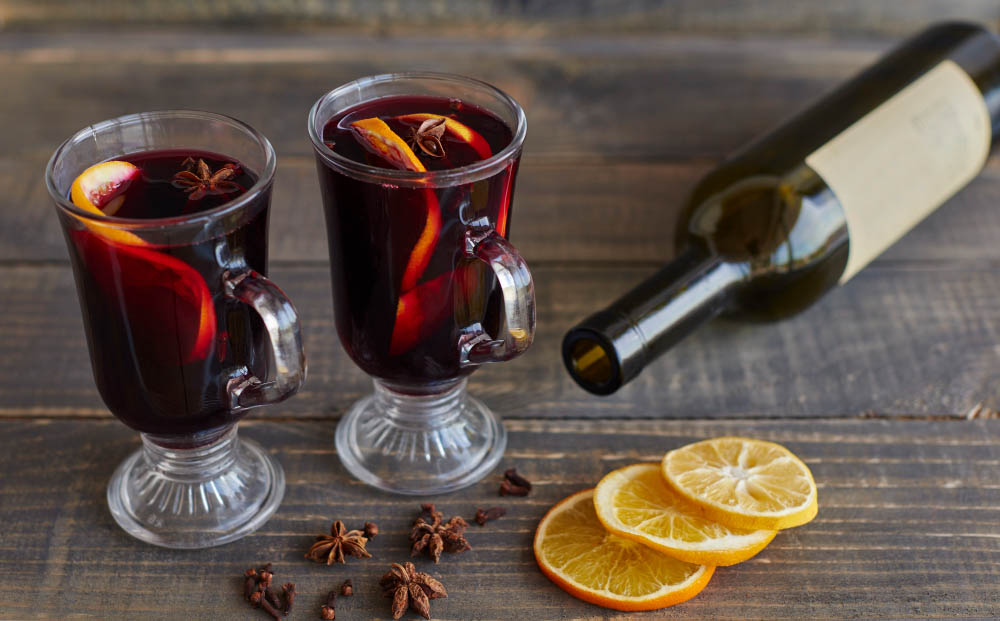 Now let's move on to the recipe for mulled wine as we consume it in France. She prepares with a young and fruity red wine (Cahors, Bergerac, Languedoc…), full-bodied but not tannic so as not to compete with spices; a good wine, without being a grand cru. For 6 to 8 people, you will need:
1 bottle of red wine
100g sugar
2 cinnamon stick
2 cloves
1 star anise (star anise)
1 grated nutmeg
orange
The zest of an organic lemon
Pour the wine into a saucepan, add the sliced ​​orange and the lemon zest. Then add the sugar and spices.
Bring to a simmer for 15 mins. Don't boil it, he would become bitter! Remove from the heat, cover and leave to infuse for 5 minutes.
Strain and serve hot in cups decorated with slices of orange and spices, accompanied by cinnamon Christmas shortbread or hot chestnuts.
You can keep it for a few days in the fridge so that it gains in flavor, then always reheat it without boiling. Try the Swedish version, with a little ginger and 3 cardamom capsules. For children, mulled "wine" is apple or grape juice with a hint of brown sugar. Finally, try the unmissable white wine recipe direct from Strasbourg Christmas market, with just cinnamon and anise, 50g of sugar and a tablespoon of fir honey from the Vosges: a real delight!
Are you angry with the dosage of spices? Use instead our mulled wine mix which contains the right dose of sugar, spices and citrus fruits to delight your taste buds! Serve hot or cold as an aperitif while waiting for Santa Claus...
Alcohol abuse is dangerous for your health, consume with moderation.