Quai Sud selects its raw materials according to their quality, their flavor, their terroir and offers them plain or flavored.
Le HACCP plan set up in 2008 allows it to guarantee the traceability of its products throughout the production chain.
Each range is worked as a collection, surfing on trends.
Quai Sud is always looking for more quality, oforiginality, flavor to keep surprising you!
Quai Sud don't forget theenvironment and acts every day in its favour: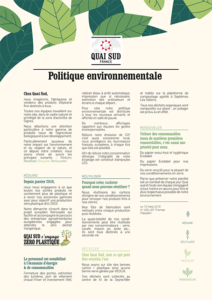 Each range is worked as a collection, surfing on trends.
ISO 14 approach
Quai Sud follows the ISO 14 environmental approach, which aims to reduce the impact of its activities on the environment.
"Eco" packaging:
Quai Sud is committed to a process of designing eco-responsible products with the particular objective of completely eliminating plastic by 2023.
Quai Sud chooses recyclable and reusable packaging and avoids over-packaging, which is synonymous with pollution.
Recyclable materials: glass is very present. The "glass jar", the "Travel mug", the carafe, the fountain, the mason jar, the vial, the "pineapple" glass, the "tiki glass" are made of recycled glass. The boxes are mostly made of cardboard.
Reusable packaging: the "shots", "bocks", "cups", "carafes", "fountains" and "cocktail glasses" are easily reusable at home.
A very "isolated" building
The Quai Sud premises in Signes are designed in accordance with the RT2005 standard. This requires increased insulation to limit energy consumption. The design of the building is part of the HQE (High Environmental Quality) approach. This approach aims to control the impact of the building on the environment.
Recycling: 100% objective
In June 2009, the agglomeration of municipalities on which the Signes enterprise zone depends had not yet introduced selective sorting. Quai Sud decides to invest in setting up its own selective sorting. Papers, plastics, glass, organic materials. Objective: 100% recycled waste.
Fight against food waste
In 2018, Quai Sud offered its products on the Too good to Go application, which allows citizens to pick up unsold items. Download the app!