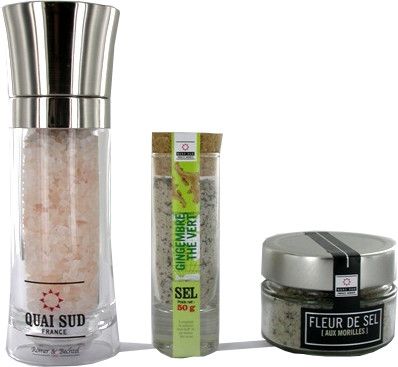 Enhance your dishes with greed and fantasy
At Quai Sud, we are particularly greedy. We like to eat well, meet up with friends around a good little dish to spend a convivial moment. In short, we are French and
eating is life
! 🍽 We have therefore created a whole series of mixes and boxes to enhance these moments of sharing with fantasy, and to put gluttony in the spotlight. No monotony in the kitchen with Quai Sud! The budding chefs that you are will be delighted with our
spice and condiment mixes
that will turn every dish into a party 🥳. Spice blends for all types of dishes from appetizers to desserts, mild or more savory flavors from here or elsewhere. Prepared by hand in our workshops in Signes in the Var, our
Made in France blends
will transform your dishes, sauces and condiments and make you a pro in the kitchen!
Colorful blends of spices and condiments
At Quai Sud, spices have always been in the spotlight, because they make the taste buds travel!
curry if
, mixes for Turkish tzatziki or Mexican guacamole 🥑… our mixes enhance your dishes and sauces with
distant and delicious flavors
. You will also learn how to prepare
your own homemade ketchup or mustard
to put these essential condiments on your table. For winter and the end of year celebrations, don't miss our
aromatic mixtures for gingerbread and mulled wine
and our incredible assortment of
Full Metal Raclette spice blends
🧀. And to shine in the firmament of starred chefs, discover our spice blends to accompany each of your favorite dishes.
BBQ mix
or pasta,
griddle mix
or fish… they are all too good and too chic in their little black boxes, which you will be happy to line up on your kitchen shelves… At the table! 🍽