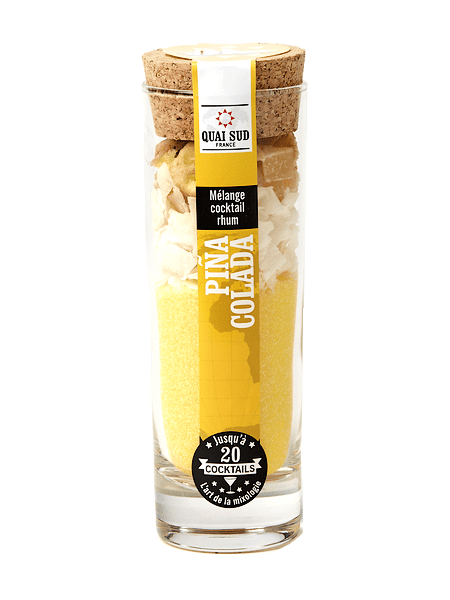 Simple cocktails to prepare thanks to Quai Sud
Cocktails are your indulgence? That's good, at Quai Sud, it's our specialty and we have everything you need to prepare delicious cocktails without having to worry! Thanks to our
ready-made cocktail mixes
, all the cocktails in the world are within your reach... and in your glass 🍹. Come discover them ! To prepare them, nothing could be simpler: macerate your cocktail mix in alcohol, for example white rum for a
Strawberry Daiquiri
, filter and taste with the usual accompaniment of the cocktail (sparkling water, fruit juice, lemon wedge, etc.). No need to handle the shaker with dexterity, our cocktail mixes are
ready to taste
! Since 1996, our blends are
handcrafted
in our Var workshops, using quality ingredients. Delicately dried fruits and flowers, fragrant spices, a little sugar, and here are delicious, gourmet and original cocktail mixes!
A world tour of cocktails
With our cocktail mixes, you can prepare more than thirty different cocktails, each more delicious than the next. Cocktails from here or elsewhere, famous or unknown, that will take you on a journey around the world. Amaze your friends by preparing them the most famous cocktails in the world like
the Cosmopolitan
, the Piña Colada or the favorite cocktail of the French,
the Cuban Mojito
. Taste our original and unusual recipes such as
French Fantaisie cocktail mix
or Hawaii.
Quai Sud cocktail mixes
are to be prepared with all kinds of alcohol (rum, gin, vodka, tequila…), and of course to be consumed in moderation 😉. You can also use them with fruit juices or lemonade to make a virgin version of your favorite cocktails. Chin chin 🥂