Autumn is back, and soon the frosts, evenings under the duvet or by the fire... Are you missing anything? But yes, a large cup of hot chocolate to warm your hands and stomach! What better way to comfort yourself after a hard day? Quai Sud explains where the tradition of the cocoa drink comes from and offers you a delicious recipe for hot chocolate with cinnamon, to be enjoyed without moderation.
Cocoa drink: difficult beginnings…
If the hot chocolate today delights young and old from breakfast to afternoon tea, that has not always been the case throughout its history. When Hernán Cortés discovered the beverage in the XNUMXth at the court of the Aztec emperor Moctezuma, it is presented to him in the form of a filthy porridge of fermented corn and crushed cocoa beans, mixed with a spoon until a foam is obtained. The grinding of the beans brings out the cocoa butter, the result is pasty and bitter. In other words, it's not love at first sight 😖...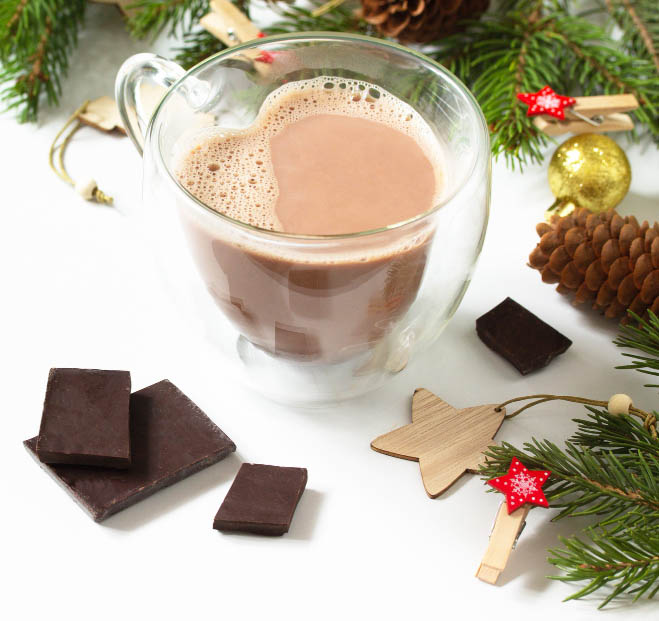 Chocolate, however, reaches Spain, where it is now eaten hot with sugar and spices. The beverage remains strong, because it is prepared with water and the spices dominate. Anne of Austria, daughter of the King of Spain, introduced him to the Court of France when she married Louis XIII. The beginnings are tedious but the consumption of chocolate gains nobility.
It was only in the XVIIIth century that the drink became trendy, its aphrodisiac reputation probably having something to do with it in this libertine century! Louis XV, a fine cook in his spare time and fond of chocolate, created a chocolate drink that has remained famous. But it was Marie-Antoinette, who arrived from Austria with her personal chocolatier, who sketched out the shape we know today: a hot chocolate with whipped cream and vanilla. Simple and sweet, the drink is all the rage in living rooms.
Cocoa processing processes began to be industrialized under the impetus of Van Houten, Menier, Cadbury... The first chocolate bars appeared and Nestlé created the first milk powder cocoa in 1875. It therefore took nearly 350 years for hot chocolate to reach every home! It was not won, but there is no longer any question of doing without it, quickly we move on to our delicious cinnamon cocoa drink recipe !
The cinnamon hot chocolate recipe by Quai Sud
How to make a good hot chocolate? Nothing's easier. We have chosen a recipe based on chocolate, milk and cream for a creamy and very tasty result, but you can also make this recipe with unsweetened cocoa powder. For a more digestible drink or if you are lactose intolerant, prepare your hot chocolate with water or a vegetable drink, for example based on almonds, oats or spelt.
For 4 beautiful cups, you will need:
200 g dark chocolate with 70% cocoa
30 cl milk
35 cl liquid cream
Soupe à 1 honey cuillère
1 cinnamon stick
Recipe :
Finely grate the chocolate.
In a heavy-bottomed saucepan, heat the milk over high heat with the cinnamon and honey. Add the cream as soon as the milk begins to simmer and whisk for 2 minutes.
Off the heat, remove the cinnamon stick then add the chocolate. Stir gently with a whisk until the chocolate is completely melted.
Put back on very low heat for a few minutes, without boiling and whisking the mixture gently.
Remove from the heat and continue whisking for a few minutes to obtain a thick, airy and very frothy chocolate.
For a hot chocolate with even spicier flavors, add a little vanilla, cardamom or anise to this recipe.
Vary them toppings : milk froth sprinkled with cocoa or cinnamon, meringues, marshmallows… With whipped cream, you will get a delicious Viennese chocolate. And for more indulgence as Christmas approaches, enjoy with small shortbread cookies.
Want a hot chocolate in two minutes flat? Discover our organic and fair trade cocoas deliciously regressive, in bulk or well protected in their pretty boxes with a design of yesteryear. Milk, a few spoonfuls of cocoa and your hot chocolate is ready !